Rwanda : Barnes postule comme sélectionneur
Mais pour quel salaire? Pendant que les citoyens rwandais crèvent de faim, les autorités rwandaises distribuent de grosses sommes d'argent à des personalités mondiales nanties! Comment les autorités rwandaises peuvent-elles penser enrôler un bon entraîneur anglais pour une équipe nationale rwandaise quasiment inexistante (sans palmarès) au niveau africain? Combien vont-ils le payer, combien vont-ils payer les joueurs? Combien touchait l'ex-entraîneur des Amavubi, le Croate Branko Tucak pour des résultats quasiment nuls! Dans le même ordre d'idées, je me posais dans un autre article, combien touchent les conseillers de luxe (Américains ou Anglais dont l'ex-Premier Ministre britannique Tony Blair) de Kagame, car personne ne pourra me convaincre qu'ils sont là pour conseiller gratuitement un dictateur aux mains ensanglantés par divers crimes contre l'humanité, les massacres et autres génocides des peuples de l'Afrique Centrale et qui jusqu'à présent n'a pas réussi à arrêter ses forfaits! Combien a-t-on payé Didier Drogba et samuel Eto'o pour un match de gala pour la campagne électorale de Kagame, car personne, là-non plus, ne pourra me convaincre qu'ils sont venus pour un match de charité!

27 oct. 2009 - Par Sam Couratin
Source: maxifoot

Viré début octobre par le club de League One anglaise de Tranmere après moins de 5 mois passés aux commandes de l'équipe première (9 défaites en 11 rencontres), l'ancien milieu international anglais John Barnes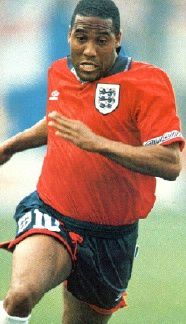 (45 ans) cherche à reprendre du service à la tête d'une sélection nationale. L'ancien coach du Celtic Glasgow avait mené la Jamaïque vers un sacre en Coupe des Caraïbes en début d'année. Barnes vient de postuler auprès de la fédération de football rwandaise dans l'espoir de devenir le nouveau sélectionneur de l'équipe nationale d'un des plus pauvres pays d'Afrique. Joseph Habineza, le ministre des sports rwandais, a confirmé la probabilité de l'embauche de Barnes dans la presse de son pays.


source: football-england.com


Few players have made as big an impact on English football as John Barnes. His career was full of exciting highs but still managed to fuel a never ending debate about the extent of his ability. If it wasn't his talent that people wanted to question then it was his attitude. And as the highest profile black footballer ever to grace the English game he has obviously been a significant individual in exposing racist attitudes and, hopefully, in going some way towards eradicating them.
John Barnes did not even arrive in England until he was fifteen when he moved with his family from Jamaica to Watford. In best comic book traditions the youngster was spotted playing on a local park, taken on by the local non-league side, Sudbury Court, which then brought him to the attention of Watford themselves.
Watford had been making big strides under the flambuoyant chairman Elton John and the astute manager Graham Taylor and had climbed from the fourth division to the second in successive seasons. Having managed to establish themselves at that level the arrival of John Barnes was a major factor in the club being able to push on even further. It was the kind of wonderful good fortune that every manager dreams of.
There were obviously some rough edges to Watford's new diamond but despite not being the finished article Barnes clearly possessed gifts that marked him out as special.
The first thing that was noticable about John Barnes was his imposing physique. Tall, broad shouldered and with tree trunk thighs he looked every inch the sort of fearsome centre half that is such a staple of our game.
He might have looked a stereotype but nothing could have been further from the truth. His impressive physical presence did make him a fearsome opponent, only not as a destroyer. Barnes was a creator and a finisher and his power combined with pace, perfect ball control and natural dribbling ability made him at times impossible to stop.
John Barnes was ready made for the Watford first team and made his debut coming on as a substitute for Malcolm Poskett against Oldham Athletic early on in the 1981-82 season. He made an immediate impression and was given his first start the following week away at Chelsea. Watford won 3-1 and there was no looking back.
Barnes flourished as Watford enjoyed their best ever season. He scored 13 league goals as the Hornets clinched promotion as runners up behind Luton Town and also featured as the club knocked both Manchester United and West Ham United out of the FA Cup. They would eventually lose out at Leicester City in the 5th round, the same stage they reached in the League Cup.
The step up to the First Division proved to be to the liking of both John Barnes and Watford. The Hornets staggered everybody by finishing 2nd in 1983 and Barnes, still in his teens, was an ever present hitting ten goals.
His remarkable mixture of raw power and ball artistry was enough to trouble the countries finest defenders and his goalscoring record proved him a more than capable finisher. This was all natural talent as well. Barnes was not the product of coaching or any youth system, he was just a young man with special gifts expressing himself on the football field.
He was expressing himself to such effect that he was handed his England debut at the end of that season, coming on as a substitute for his club colleague Luther Blissett in a goalless draw in Northern Ireland. This was to be the start of a bittersweet association with the national team.
It was the following season that really confirmed John Barnes as an important talent. Many exciting youngsters burst onto the scene in a burst of glory only to quickly fade into the background but Barnes again reached double figures for league goals as well as dazzling as Watford made it all the way to the FA Cup final. This guy was here to stay.
Predominantly a winger Barnes could be used infield to good advantage and he was capable of destroying defences on his own. Many of his goals were spectacular shots or stunning individual efforts.
When Watford travelled to Birmingham City in the quarter finals of the cup Barnes showed his mettle. It was the biggest game of his career so far and he produced his finest display yet. In a rampant performance he scored twice as Watford won 3-1, one of his goals being a tremendous solo effort. Striding away from two challengers as though they just interested onlookers Barnes sent a wicked, curving shot soaring into the top corner.
He was not able to match this performance in the final as a fine Everton team proved much too strong for Watford and ran out 2-0 winners. His defining moment was not far away, however.
John Barnes had won a handful of England caps but he had stepped into a side in transition that was struggling under Bobby Robson.
In the summer of 1984, having failed to qualify for the European Championships, England embarked on a tour of South America. The squad was patched together following a spate of withdrawals and there was very little confidence about the prospects of the inexperienced party.
Robson himself was under huge pressure and had decided on a bold gamble. With his own future possibly at stake he was going to play both Barnes and Mark Chamberlain as wingers and gamble on a two man midfield in Brazil, Uruguay and Chile.
This selection, in fact the whole trip, was rendered a glorious success by one piece of action just before half time in the opening game.
With England holding their own against Brazil in the Maracana and the game goalless Barnes received possession on the left wing just over the halfway line.
An opponent challenged immediately but Barnes stepped inside and set off towards goal. On and on he went, diagonally towards the penalty area. A series of defenders came to meet him but Barnes ignored them all. Finally, having sidestepped the keeper, there were no more challengers to beat and Barnes rolled the ball into an empty net.
It was a truly magnificent goal and left everyone stunned. Barnes would also produce the perfect centre from which Mark Hateley would clinch England's 2-0 win but it was the first goal that had everybody talking. The goal had already ensured Barnes his place in football history but it had also created a millstone that he would carry around his neck for the rest of his international career.
Whenever he appeared in future people were waiting for a repeat of this goal. The expectations created were never quite lived up to.
Although England went on to lose in Uruguay and then draw a grim game in Chile without scoring another goal the victory in Brazil ensured that the tour was regarded as a success and John Barnes was suddenly the most talked about footballer in England.
It is surprising that he remained at Watford for another three seasons from this point and that perhaps provides an early indication of the suspicion his talents aroused. It is unimaginable today that the big boys would wait so long to come calling for someone who had already produced as much magic as Barnes.
Those three seasons saw a stalling in John Barnes' development as a footballer. The brilliance was still there for all to see on a regular basis but there was more to come out than could emerge at a club that had gone as far as it possibly could.
It was obviously great for the Watford fans to be treated to such quality for a prolonged spell and Barnes did not disappoint the Vicarage Road faithful. He scored over 30 league goals during this time and helped the club to another FA Cup semi final in 1987. He scored one of the goals in a 3-1 win at Arsenal in the quarter finals but Tottenham Hotspur outclassed them in the last four to claim a place at Wembley.
His international career was also slightly in limbo and although Barnes made the squad for the 1986 World Cup finals in Mexico he had slipped from the forefront of Bobby Robson's thoughts.
Despite England enduring a turbulent campaign John Barnes did not feature until the quarter finals when they found themselves 2-0 down to a Diego Maradona inspired Argentina. He had fifteen minutes to create an impression.
Barnes transformed the game with a series of bewitching dribbles down the left. Suddenly a side that had barely created a half chance was running amok. From one jinking dribble Barnes centred for Gary Lineker to head England back into contention and then he produced a carbon copy which seemed certain to bring an equaliser only for a defender to execute an astonishing clearance from right underneath the crossbar.
It was a reminder of Barnes' qualities, unique in the English game, but still there was scepticism over the consistency of his merits.
Although people within the game were proving peculiarly hard to convince John Barnes was simply too big a talent to remain at Watford forever and he eventually moved from Vicarage Road in the summer of 1987.
Legend has it that there was an impromptu poll taken within the Liverpool dressing room to ascertain which players had caused them the most trouble during the previous season. The names that topped the list were John Barnes, Peter Beardsley and Ray Houghton. Kenny Dalglish went out and signed all three of them.
It was fantastic business.
Barnes, who had made his mark by scoring a typical solo goal against the Reds the previous season, cost the Anfield club £900,000. This was to prove a real bargain.
The new signings helped Liverpool to re-establish themselves as the countries top side. In fact many would argue that this side now became Liverpool's best ever.
Liverpool began the season in magnificent fashion, not just winning games but winning them in style. Much of their football was breathtaking and Barnes was at the forefront, settling instantly to produce a series of awesome displays which made a mockery of his critics and possibly surprised even his staunchest admirers.
Liverpool won their opening game of the season away at Arsenal and just kept on winning. Barnes scored his first goal for the club in a 2-0 win over Oxford United at Anfield as the Reds set a frightening pace.
Queens Park Rangers were one of the sides keeping closest tabs on them but when they visited Anfield in mid October they were taken apart 4-0. It was Barnes' best display yet in a Liverpool shirt and included another virtuoso solo goal, carving through the Rangers defence from halfway to finish with an exquisite curled shot into the wall of the net in front of a heaving Kop.
This was the fifth time in the opening nine games that Liverpool had scored four and also the fourth game in succession. There is no way of knowing whether John Barnes arrived at Anfield feeling he had something to prove but if he had it was already proven. He was already a hero with the Kop and while comparisons were being drawn between himself and the 60's legend Peter Thompson these scarcely seemed to do him justice. Fine player as Thompson was he had never electrified Anfield in the manner that Barnes was doing.
The season ended with Liverpool romping to the league title and John Barnes being chosen as both the Football Writers and the PFA's Player of the Year. Typically, however, there was still room for disappointments and further questioning of his ability at the top level.
Liverpool missed out on the double after a shock cup final defeat to Wimbledon and Barnes, along with the rest of the England squad, endured a miserable European Championships. Barnes did little of note as England lost all three of their group games to crash out in spectacular style.
Barnes got his hands on an FA Cup winners medal the following year after playing his part in the 3-2 victory over Everton but he missed out on the league when Michael Thomas famously snatched the title for Arsenal with his last minute goal at Anfield.
The debate about his international pedigree would never go away, raging right up to the award of his 79th and final cap against Columbia in 1995, by which time he had chipped in with 11 goals.
It is true that the consistent brilliance he showed for Liverpool always eluded him in an England Shirt but for everybody who thought the problem lay with him there was as many again who felt it was the inadequacy of his teammates. Then there were as many more who thought the managers were to blame. The argument has never been conclusively resolved.
John Barnes was certainly never blessed with much luck at international level and that doesn't help. He enjoyed another magnificent season with Liverpool in 1989-90, top scoring in the league with 22 goals as the club won another league title. This saw him again being named the Football Writers Footballer of the Year.
Yet as England embarked on a wonderful World Cup adventure, Barnes found himself hampered by a groin strain and made little impression. Even then he should have made his mark but when he did score a fine goal in the 2nd round game against Belgium he saw the effort incorrectly ruled out for offside and David Platt went on to be the hero.
England fell just short of actually winning that tournament and it is not fanciful to think that a fully fit John Barnes might well have made that difference. As it was his most notable contribution to the campaign was his rap on the World In Motion song.
Later on, when criticism of his selection was at its fiercest, Barnes put England ahead in a crucial World Cup qualifier against Holland with a beautiful free kick, curled at pace into the top corner.
England were flying and cruised into a two goal lead before an injury to Paul Gascoigne turned the tide and defensive lapses saw the Dutch escape with a draw. Barnes' early goal was almost forgotten by the end.
As Barnes moved into his thirties a series of niggling injuries led to him missing significant chunks of three successive seasons.
When he finally shrugged off these problems he was no longer the force he had been. His pace was no longer searing, especially his change of pace, and he could no longer leave his defender for dead once he had beaten him. Perhaps as importantly, however, Liverpool were no longer the team they had been before the injuries began to plague him.
Most of the old guard had disappeared and although there was a promising crop of youngsters coming through the quality of the clubs' signings had declined alarmingly.
There were question marks over John Barnes' future but he declared his intention to stay and help the youngsters make the transition into first team regulars.
The flying winger now became a scheming midfield player or a deep lying forward. His influence was still tangible but nowhere near as profound as in his prime. Basically he was now coaxing others in the hope that they could do the damage instead of just doing it himself.
He helped Liverpool win the 1995 League Cup but it was Steve McManaman who was the match winner and it was clear that a changing of the guard was in progress.
Although John Barnes soldiered on for another four seasons there were only disappointments left at the end of a glorious career.
He was in the Liverpool side that lost to Manchester United in the 1996 FA Cup final and was still there the following season as they went out of the Cup Winners Cup to Paris St Germain at the semi final stage.
In August 1997 Barnes finally left Anfield to rejoin Kenny Dalglish who had just taken over at Newcastle. The fact that John Barnes ended the season as joint top scorer in the league with six goals shows how Newcastle laboured without the mainly injured Alan Shearer.
Shearer was back as Newcastle reached the FA Cup final, however, and Barnes was the man to suffer, remaining on the bench for all but five minutes of the game as Arsenal cantered to a 2-0 win. Looking back it is difficult to agree with the selection of Temuri Ketsbaia in his place, even if Barnes was pushing 35.
The next season would be the last for Barnes and he ended it with Charlton Athletic as they suffered relegation from the Premier League.
It almost seems unfair to comment on the latter stages of Barnes' career when the early part was such a glorious trip of exhilarating football and success.
It is interesting to consider the end of his career in light of the criticism he received throughout his playing days suggesting that he lacked real passion or drive, however.
If that had been the case then why did Barnes bother carrying on playing for so long? It would have been all too easy for him to walk away from the game when things became harder for him because of the injuries he began to suffer, especially as the players around him were patently not of the quality to which he had become accustomed in his earlier days. He certainly did not need the money.
The fact that Barnes chose to carry on playing so long in an attempt to nurture a new, great Liverpool side seems to show a commitment to the club and a simple desire to play football. It is natural that extravagantly gifted players love playing football but not all of them retain that desire when their powers begin to fade. John Barnes was one of those who did.
His willingness to endure widespread and continual criticism as an England player also suggests a man brimming with ambition and personal pride.
The abuse was always personal and although it generally centred on his performances this was not always the case. His international career began when there was a definite hooligan element among England's support. There was also a definite racist element.
Famously a group of travelling supporters were heard remarking, after Barnes had scored his wonderful goal in Brazil, that England had only won 1-0 because his goal didn't count. They might as well have called it a goalless draw as he had also set the other goal up but that didn't apparently occur to them.
John Barnes also had to endure plenty of abuse during domestic games and the photo of him casually backheeling a banana from the pitch remains one of the most powerful images from the time.
This all brings us back to the question that if he was really not that bothered then why did he put up with such rubbish for so long?
In one respect John Barnes had to play football simply because that is what he was born to do. By playing on through the tougher times when he could have rested on his considerable laurels shows him to be a man of ambition and desire.
As for putting up with the abuse that came his way there was always a thoughtful dignity in Barnes on and off the pitch that suggested he realised full well just how his behaviour and standing put into a telling context that of those aiming the abuse.
He has been an important figure as more than just a wonderful footballer.
Pour être informé des derniers articles, inscrivez vous :