Ouganda: le Général Salim Saleh alias Caleb Akandwanaho prend la retraite
Source: Daily Monitor
By Richard Wanambwa
Posted Sunday, February 7 2010 at 00:00
Senior Presidential Adviser on Defence, Gen. Caleb Akandwanaho (Salim Saleh), on Friday retired as commander of the army's Reserve Force, a post he has held since 1989.
This move could pave the way for Gen. Saleh to enter elective politics following much reported speculation in that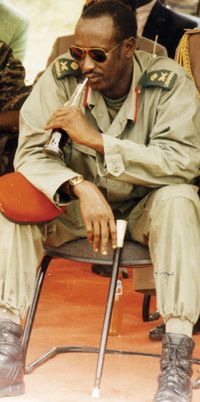 direction. Under Uganda's army laws, a serving officer in whatever form is barred from engaging in partisan politics.
"It's hard to keep together these people because majority of them were freedom fighters and they cannot be organised. They are not in good shape but they remained disciplined and I hope the next commander will keep them intact," Gen. Saleh told the gathering that comprised representatives of the civilian support groups that provided assistance to the combatants when they were rebels during the 1981 – '86 bush war, widows of the departed men of the force and the retirees.
He added: "I have been commander of this force since 1989; I ask that those of us aging should retire and let us take on the responsibility."
Gen. Saleh, who is one of President Museveni's brothers, handed over the instruments of office to the new unit commander, Maj. Gen. Levy Karuhanga, at Nakaseke District headquarters in a symbolic ceremony witnessed by members of his force. He said it was proper for those aging (commanders) to hand over responsibilities to young and energetic leaders.
Although, he has retired from the reserve force, Gen. Saleh who is said to wield substantial influence over the army and is suspected to be the unspoken power always standing by his brother's side.

In choosing Nakaseke to relieve himself of military duty, Gen. Saleh could have been making the subtle point that he is taking up the long-suspected intention to run for election as a Member of Parliament representing a constituency here.
Not too long ago, President Yoweri Museveni while touring the district directed that the Electoral Commission split Nakaseke County into two constituencies, saying that the current constituency is too vast to be represented by a single individual. This directive sparked off speculation that he was preparing a constituency for his brother who already owns a large modern farm in the area.
Nakaseke is presently represented by Finance Minister Syda Bbumba. Also, following the presidential directive some officials at Mengo, the seat of Buganda Kingdom, viewed the intended split of the county as another attempt to encroach further on areas which have traditionally been under Buganda as a kingdom but which have been taken over by other tribes largely due to migration and assimilation.

What next?

But on Friday, Gen. Saleh told Sunday Monitor in an exclusive interview after the ceremony that he was headed into commercial and mechanised agriculture contrary to the perception that he was eying one of the Nakaseke constituencies, (that is, if Electoral Commission divides the current Nakaseke County).
"I am going into the politics of mechanised agriculture and this is where I want to help people realise the importance of food security. As a country we lack food security because we produce for consumption and that is what I am fighting for now" Gen. Saleh assumed the role of commander of the reserve force after his brother sacked him from the post of army commander.
His submissions on Friday were, however, greeted with anger from the gathered public as some people in the crowd shouted that apart from the Gen. Saleh those they brought into office through the Luweero Triangle bush war are greedy and selfish. Nakaseke is located in the Luweero Triangle area. "Why did you abandon us?"
they shouted, " These people you have left behind are like hyenas, they don't mind about and it will be hard to get our pension."
The army's reserve force comprises of all army veterans, retirees and deserters, whose work is to be on standby and on call to supplement the national army in case of an emergency.
However, majority of the people in the reserve force are remnants of what was the Luweero bush war that brought President Museveni to power in 1986 after waging a protracted guerilla war against the government of President Milton Obote which he claims rigged itself into power by pick pocketing the 1980 general elections.
Mr Museveni and his then political party, Uganda Patriotic Movement, came last in that election.
Capt. Juma Seiko, the long serving personal assistant to the general, told Sunday Monitor in an interview that the actual number of people under the reserve force is big (estimated at 50,000 by some accounts) but as is characteristic with the handling of security matters, no exact figures have ever been made public.
"This is part of the national army and they can be recalled any time if their services are needed and it not necessary to expose the actual numbers," Capt. Seiko said.
--------------------------------------------
Gen. Salim Saleh whose real names Caleb Akandwanaho was born on January 14, 1960 is an adviser to President Yoweri Museveni on military matters. Most recently, minister of state for Microfinance. Before that, he was a high ranking officer in the UPDF. Gen.Saleh has featured in controversies regarding corruption, including being implicated by the United Nations Security Council for allegedly plundering natural resources in Democratic Republic of Congo.
Military Career
In 1976, aged 16, he left Kako Secondary School in Masaka to join the Front for National Salvation (Fronasa) based in Tanzania, a rebel group formed and led by his brother to fight against the regime of Idi Amin.
Pour être informé des derniers articles, inscrivez vous :