Ms Lydia Draru a-t-elle été aidée pour tuer le Gén. Kazini?
Kazini's widow queries his death
Kampala


Maj. Gen. James Kazini's widow yesterday said she was doubtful that Lydia Draru, her husband's alleged killer, was the lone assailant in the killing of the former army commander.

"I highly doubt he was hit by a woman [acting] alone in that kind of way," Ms Phoebe Kazini told Daily Monitor yesterday. "I think that other people were involved, but of course there was this lady."

Ms Kazini, who has three children with the former army commander, said she would raise her concerns with the Police, possibly after burial. "Do you think a woman can fight a man in such a way?" she asked. "She must have been among the group which did it. We really doubt that she is the one who did it the way it was done."

Ms Kazini said the family would like "to have more information". Her questions came as the Police announced yesterday that they were not looking for more suspects in the killing of Gen. Kazini, who was found dead in his lover's house.
"We are still investigating. We are compiling our file on Lydia Draru," said Judith Nabakooba, the Police spokesperson, adding that Ms Draru, who has confessed to killing the man in self-defence, is the only suspect.

However, one Bosco Lule, the LC1 chairman for Wabigalo, the village in which Ms Draru's house falls, was yesterday arrested on a theft charge related to the murder.

"We are not linking him to the murder," Ms Nabakooba said, adding that the money may have been Gen. Kazini's. "It is suspected that Draru gave some money [$300] to Lule after she committed the murder. The motive is not yet clear."

According to Ms Draru's narration of events, she killed the man after an intense domestic quarrel in which he accused her of stealing his money. Gen. Kazini was on Tuesday morning found dead in the living room of a two-bedroom house, with Ms Draru claiming responsibility for the multiple cuts on his head.
Ms Draru's eagerness to accept guilt was one of the reasons that made the family doubt she had acted alone, Ms Kazini said.



Friends speakout


Ms Kazini's concerns seemed to dovetail with the advice that several friends of Gen. Kazini gave detectives after viewing the crime scene.

Trade Minister Kahinda Otafiire asked detectives to consider the possibility that Ms Draru "could have been assisted". Repeated efforts to reach Edward Ochom, who heads the Criminal Investigations Directorate, were futile.

The earliest policemen to reach the crime scene came several minutes after bodaboda cyclists had arrived there, and is it possible that the integrity of the crime scene had been breached by then.

During a parliamentary session yesterday, some MPs also doubted that the alleged killer could have acted alone and demanded an investigation.
At Gen. Kazini's home in Munyonyo yesterday, mourners kept speaking in hushed voices.

There will be a requiem service for Gen. Kazini at All Saints Cathedral today, and burial is tomorrow afternoon in Ssanga, Kiruhura District.



Who is Lydia Draru?


As classic as the biblical tale of Samson and Delilah- Lydia Draru, who has confessed to bludgeoning former Army Commander and veteran of many battles James Kazini, is a woman with a troubled personal history- Daily Monitor can reveal.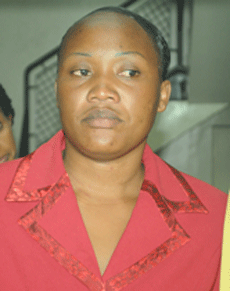 SUSPECT: Lydria Draru

Sources tell a story of a party girl with big dreams whose life story was tied to the ups and downs of her dating diary. She was born in the mid eighties in Manibe Village, Ayivu County, about four kilometres north of Arua Town.
Some accounts, however, suggest she is from Maracha-Terego.

She left the village for the city to study as a 16-year-old and told her friends she had completed her A-levels at Old Kampala SS. She spoke fluent English and Luganda.

By the late 90's she surfaced at several bars – like Wilson-based DV8. Friends recall a darker skinned, curvaceous girl who loved music and partying, had a temper and appeared not to have any known income source or jobs.
At one point- a sign of desperate times and the direction her life had taken- her picture surfaced on an adult website featuring Ugandan girls most of who were ladies of the night.

Some friends say around 2004 she had a relationship with a Canadian national which ended when the expatriate left the country two years later.

It's unclear when she met Kazini but she has been spotted occasionally hanging in the city with officers of visiting military delegations to Uganda.

In 2007 Gen. Kazini asked the Wabigalo LC1 chairman, Mr Bosco Lule, to find a house for him. In August that year Ms Draru moved into the house on Wabigalo Road. She shared the house with her sister a student at Green Hill Academy and her brother a university student.
Kazini was said to be footing their bills.

"We only saw her coming in, sometimes with the General, or going out," says Peter Walusimbi, a boda boda rider at the stage directly opposite her house.
She frequented a hair salon for four years in Kisugu where she became friends with its proprietor. .

The friend said Draru had told her she had dropped her "white man for a General" and recognised Kazini's picture in the house when she visited her.



Talking love


She said the two had a good relationship and Draru often talked of her love for Kazini and that she was unbothered the General was a married man with children.

The friend said the two, however, disagreed on whether they should have children. She claimed Kazini did not want children but assisted Draru, who unsure whether she could bear children, had an operation last year. It confirmed she was fine.

"If she is not pregnant, then she was planning to get pregnant because she has been telling me that she wants to give birth before the end of next year," the hair dresser, who spoke on condition of anonymity because of the sensitivity of the matter, said.

And so it happened that their relationship violently bust into the national limelight at the time Kazini was no longer alive.



Reporting by Rodney Muhumuza, Alfred Nyongesa Wandera, Sheila Naturinda, Gerald Bareebe & Angelo Izama
Partager cet article
Pour être informé des derniers articles, inscrivez vous :