Kampala
Maj. Gen. James Kazini, the former army commander, died Tuesday morning after his girlfriend, Lydia Draru,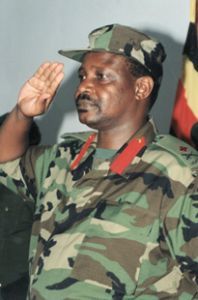 allegedly hit him with an iron bar.
Family and security sources say General Kazini was killed at his girlfriend's home in Namuwongo, a Kampala suburb near this newspaper's offices on 8th Street, Industrial Area.
The girlfriend has been arrested and taken for questioning at Kampala Central Police Station. Mourners, among them military officers and relatives, trickled in to the Namuwongo residence as the shocking news spreads.
The country was preparing for the burial later Tuesday of vice President, Prof. Gilbert Bukenya's son, Bryan, who died at the weekend after suffering serious head injuries in a motor crash.
By 8:00 a.m. his body had not yet been moved. Senior Police detectives arrived shortly after to take notes and examine the crime scene. Later, at about 10 a.m, his body was taken to Mulago Hospital mortuary.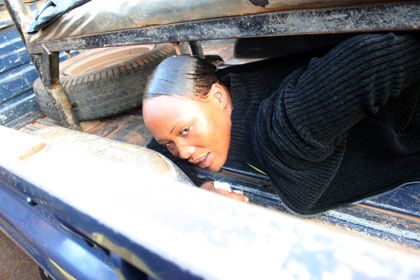 SUSPECT: Ms Draru in a police pick-up truck after she was arrested. PHOTOS BY JOSEPH KIGGUNDU
A small crowd of neighbours gathered outside the home, many of them fearful of talking to journalists about what they might have seen or heard prior to General Kazini's death.
Further details regarding the incident have not been released by security. Lt. Col. Felix Kulayigye, the army Spokesman, says the former army commander, who was facing trial for various alleged offences, was a "victim of domestic violence".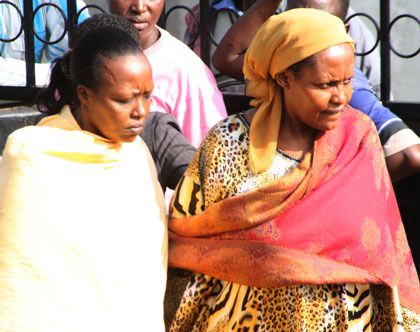 Kazini's wife, Phoebe (L) arrives at the scene of the accident in Namuwongo with a relative.
He had, among others, been accused of creating the 409 brigade in West Nile allegedly to topple President Museveni's government.
He is reputed for fighting the Allied Democratic Forces rebel group in western Uganda as well as the Lord's Resistance Army in northern part of the country.
The UN later named him as one of the Ugandan military officers that pillaged DR Congo resources during 1997-2003 invasion.