le Général Faustin Kayumba Nyamwasa en fuite??
La faille dans le système de défense de Paul Kagame: la fuite du Général Kayumba Nyamwasa devrait relancer le traitement des affaires sous le coup des mandats internationaux français et espagnol. Ce fugitif n'est pas n'importe qui, après son patron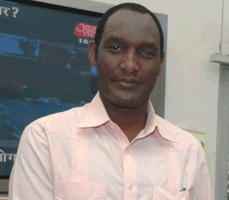 Paul Kagame, c'est l'un des plus grands massacreurs du FPR (notamment les massacres des populations civiles de Byumba avant 1994, les assassinats comme celui du Père Vallmajo, les massacres des populations civiles de Ruhengeri après la prise du pouvoir par Paul Kagame). Il devrait intéresser le juge français Marc Trévidic en ce qui concerne l'attentat contre le Président J. Habyarimana. C'est pourquoi les autorités de Kigali ne seront pas tranquilles tant qu'ils n'auront pas mis la main sur l'homme le plus dangereux contre les criminels au pouvoir à Kigali.


Gov't searching for fugitive Gen. Kayumba Nyamwasa

Friday, 26 February 2010 19:56
Kigali: A career soldier, diplomat and most recently linked to the troubled Green Party, Lt. Gen. Faustin Kayumba Nyamwasa is against back in the news for all the wrong reasons. Government says he is "on the run" in Uganda – a neighbour with which Rwanda almost went to war, RNA reports.
A government communiqué on Friday evening said the embattled Rwandan diplomat to India and renowned ex-army chief no longer represents Rwanda in Delhi with immediate effect. General Kayumba is also sought for crimes committed back home, according to the brief communiqué, also read on state TV and Radio.
The Government says he is in Uganda, but does not say how and why he got there. The statement does not also say which crimes he supposed to answer for.
The Ministry of Foreign Affairs has apparently also started behind-the-scenes maneuvers to have him extradited to Rwanda to answer for the yet unspecified charges, according to the government communiqué.
Last week, the soft-spoken General was in the country along with fellow other envoys for the annual ambassadors' retreat organised by the Foreign Affairs Ministry. The line-minister Louise Mushikiwabo opened and closed the two-day meeting.
It is not yet clear if he returned to his posting in Delhi before fleeing or simply travelled to Uganda.

Green Party


The General has had his fair share of controversy. Most recently, almost all the local newspapers which brand themselves as `independent' reported that a top secret dossier had been compiled by the intelligence community detailing all people behind the trouble-ridden Green Party of Rwanda.
Among those named also includes Senators, the Police Commissioner General Emmanuel Gasana and several other top former and current government officials. Perhaps the biggest shock was the naming of a senior aide to the Ugandan President Yoweri Museveni, by the names of Dr. John Nagenda.
Among the tens of people named in the controversial dossier – to which government has not commented, or even any of the people named, only Dr. Nagenda, said to be of Rwandan origin, has responded - denying any links to the Green Party.
However, he confirmed that he is an uncle to the Green Party leader Mr. Frank Habineza, for who he even paid tuition at some point.

Army chief


Before the Rwanda Patriotic Front (RPF) rebels captured power in 1994, Colonel Faustin Kayumba Nyamwasa was the Commanding Officer of the Directorate of Military Intelligence (DMI) in the rebel ranks. He would be brought in to battle the ousted government army and interahamwe for several years. Brigade 221 which Nyamwasa headed managed the war-torn northern Rwanda.
In January 1998, then Colonel Kayumba Nyamwasa was appointed army chief of staff replacing then Colonel Samuel Kanyemera. He would become Major General and later Lt. General. Those still in the army ranks describe him as a very strict disciplinarian, but likable officer.
During the dark days after the ex-army and interahamwe militias had been forced out of Rwanda into neighboring Zaire – now DR Congo, General Nyamwasa camped in the heart of the rebel zone in northern Rwanda.
As government struggled to contain the rebel incursions between 1996 to around 1999, General Kayumba was said to have been personally overseeing the war effort. At some point in January 1998, he told the BBC that "We have the means. We have the will. We will kill until they lose their appetite for war."
And indeed, following the second invasion of DRC by Rwandan forces in 1998 up until now, the interahamwe – now known largely as the FDLR have not been able to strike on Rwandan territory.
President Paul Kagame – then vice president and Defense Minister, up until early 2000, was also a major brain behind the country's military successes against the rebels.

Sacked


In 2001, General Nyamwasa was relieved of his duties, replaced briefly by exiled General Bem Emmanuel Habyarimana, an ex-FAR officer who was also later replaced by current full General James Kabarebe when Habyarimana become Defense Minister. General Kayumba was sent on training in the UK.
In November 2002, government redeployment returned General Nyamwasa as Head of Security Services – described as coordinating the internal and external security apparatus.

Two years later, the General was posted to India as the country's envoy – a post he held until Friday.

International indictments


General Kayumba is now not only a fugitive from national justice, he is also sought by the Spanish and French governments over contested indictments.
In November 2006, a French anti-terrorism Judge Jean Louise Bruguiere indicted General Kayumba, along with nine other senior military officers for allegedly being part of the enterprise which assassinated former Rwandan President Juvenal Habyarimana.
The indictments led to Rwanda severing relations with France completely until this Thursday – with the visit of French President Nicholas.
Trouble was not about to end. In February 2008, Spanish judge Andreu Fernando Merrelles also named General Nyamwasa among the 40 people he indicted for the death of Spanish nuns and war crimes.
In both of the indictments, President Kagame is also named but was not indicted owing to presidential immunity under international law. Government has fiercely contested the warrants – but the Spanish indictments have not gone far.
At the time, General Kayumba – a diplomat in India and therefore also protected under international law, angrily dismissed the two indictments.
Pour être informé des derniers articles, inscrivez vous :