Joy as King Oyo takes charge
By FELIX BASIIME & JOSEPH MUGISA (email the author)
Posted Sunday, April 18 2010 at 00:00
Sunday Monitor
Thousands of people came to witness the thanksgiving service and legal declaration of the youngest King in the country, Omukama Oyo Nyimba Kabamba-Iguru Rukidi VI that he had turned 18 and had assumed full control of the affairs of his Tooro Kingdom, yesterday at the palace, write FELIX BASIIME & JOSEPH MUGISA:-
King Oyo turned 18 years on Friday marking a watershed moment for the Tooro Kingdom he has ruled alongside regents for the last 15 years starting at age three.
"From today on wards, regents will be no more," Acting Bishop of the Rwenzori diocese (CoU), Rev. Benezeri Kisembo, said in his thanks giving remarks on Saturday.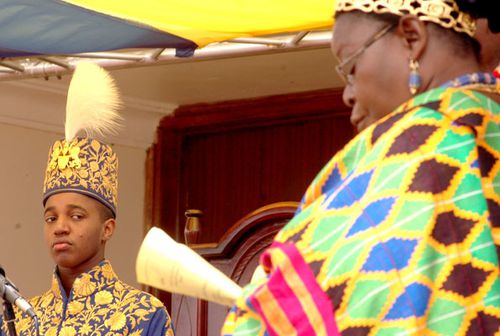 IN CONTROL: King Oyo listens to instructions from Ghana's Queen Mama Agblatsu (R) during yesterday's ceremony. PHOTO STEPHEN WANDERA
Cultural leaders across the continent turned up from as far as Ivory Coast, Ghana, Nigeria, Kenya and Uganda to witness the ceremony.
Libyan leader Col. Muammar Ghadaffi did not turn up but sent a representative from his government at the main celebrations where President Museveni was chief guest.
"We thank God for making you grow from a minor to a mature person," said retired Bishop Eustace Kamanyire in his sermon. "The people who you lead are very important because your Majesty you came from them."
By Yesterday (Saturday) afternoon the Chief Justice was to legally declare King Oyo of age and to be handed over by the regents.
Business halted
On Friday, Fort-portal town was thrown into a delirium when King Oyo for the first time appeared in public by matching in town with the royal family attracting hundreds of his subjects to follow him.
Business was brought to a standstill. He later handed over a trophy to the winning clan in the King's soccer tournament at Buhinga play ground. The Bagweri clan trounced the Basiita clan in the final watched by a mammoth crowd.
"I have never seen this in Tooro, the King to walk with us in town!" wondered Ms Jane Kabataizibwa Abwooli, 20.
King Oyo then proceeded to Karuzika where the cultural ceremony of sounding of the royal drums to mark the Empango celebrations kicked off in earnest. The Omukama was also handed royal regalia underlining the historical identity of the Tooro Kingdom, dating back to 1830. He was also entertained by the royal dance Amakondere.
Crowds surged forward to catch a glimpse of yet another ceremony the milking of the royal cows. Friday events were crowned by a bash at the lower part of Kabarole hill below the palace where the King enjoyed tunes from several artists including Jose Chameleon and the fireworks.
Traders in town are earning from the function especially the hotels as some have hiked rooms from Shs7,000 to between Shs10,000 and Shs15,000 while others have gone as high Shs60,000 from Shs25,000.
Partager cet article