Encore un petit roi pour l'Ouganda avec les couleurs du ... Rwanda
Après ses déconvenues avec le Kabaka Mutebi, Museveni a autorisé le couronnement d'un petit roi dans les montagnes du Ruwenzori, Charles Wesley Mumbere, ex-aide-soignant aux USA (plus érudit que notre Kagame national), qui a décidé de ranger son tablier pour une couronne! Celui-ci a pris une sage initiative de se faire introniser sous les couleurs (dans le désordre) du Rwanda !!, au cas où le Rwanda s'emparerait de son royaume. Il faut toujours anticiper les choses, c'est cela même un bon roi, et Museveni n'a rien trouvé à y redire! A force de diviser pour régner, Museveni risque de se faire prendre à son petit jeu!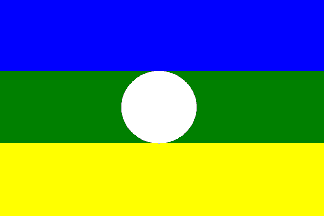 Drapeau du Rwenzururu Drapeau du Rwanda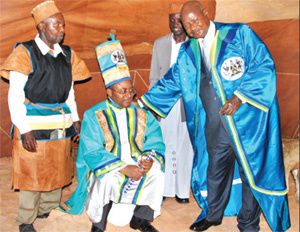 By Raymond Baguma
and John Thawite , The New Vision, 19th October, 2009
A National conference for leaders of cultural institutions is coming, President Yoweri Museveni said yesterday.

"We restored these kingdoms but we have not discussed with them in detail how they should work in harmony with the Government," the President explained.

He was was speaking at a ceremony where he recognised the Obusinga (kingdom) of Rwenzururu and King Charles Wesley Mumbere.

During a ritual at a palace in Kasese, the President laid his hands on Mumbere's left shoulder and then addressed the kingdom's parliament.

Mumbere ascended to the throne on October 19, 1966. He succeeded his father Isaya Mukirane, who had launched the Rwenzururu armed struggle against the Toro kingdom. Thousands of loyalists turned up at the Kilembe Golf Course to witness the event, which also marked 43 years since Mumbere ascended the throne.

The regional Police spokesperson, Elly Matte, estimated the crowd at 60,000 people.

Museveni said traditional institutions were restored in areas where the people demanded them. He said Ankole kingdom could not be restored because the people rejected it.

He said the people of Kasese had shown love for their monarchy in line with Article 246 of the Constitution, which allows the restoration of old kingdoms and creation of new ones.

"I have proof the people of Kasese wanted Obusinga. The proof was based on a resolution passed by Kasese district council, elders and other people who sent me signed resolutions. So, I have come to show the Government support for this cultural institution."
He said the involvement of traditional institutions in politics was detrimental to the culture of the people. He noted that cultural institutions should avoid creating tension among the different communities.

He cited Bundibugyo district, where the Bamba were opposed to the Rwenzururu kingdom and promised to discuss with Mumbere how the Bamba and Bakonjo could peacefully co-exist.
"Handle the issue carefully so that you do not create tension out of a new cultural institution," he advised Mumbere.

"The Bamba told me clearly that they don't want to be associated with the cultural institution. Nobody can be forced to support a cultural institution against their will. They should not worry because the centre of the institution is in Kasese, where there is consensus," Museveni added.

He thanked the residents of Kasese for supporting the Government to defeat the ADF rebels. He said cultural institutions were vital in preserving culture and promoting indigenous languages. He urged the Rwenzururu kingdom to fulfill this role.

He said the king would start getting a monthly stipend and promised him a vehicle and a palace.

He urged the Rwenzururu people to embrace the Government programmes in agriculture, the universal primary and secondary education, mass immunisation and the HIV/AIDS prevention campaign.
Mumbere assured the President that his kingdom would work closely with the NRM government.

"Obusinga will always be non-political and implement its activities in a cultural manner, as culture transcends politics."
The king's speech was disrupted by a downpour, which forced people to flee for shelter.

The king appealed to his people to abandon armed conflicts which have characterised the cultural institution. "I ask all Banyarwenzururu to return all sorts of weapons to the armoury," he appealed.

He said the kingdom would focus on education, health, roads, clean water and sanitation.

The coronation was attended by a delegation from the DR Congo led by the minister of culture and arts, Esdros Kambale. It included the Congolese ambassador, Charles Okoto, and MPs.

There were also delegations from across Toro kingdom.
Partager cet article