Ces généraux qui veulent succéder à Museveni
Kampala, Daily Monitor
Maj. Gen. Mugisha Muntu has launched his campaign to be the Forum for Democratic Change 2011 presidential candidate, asking the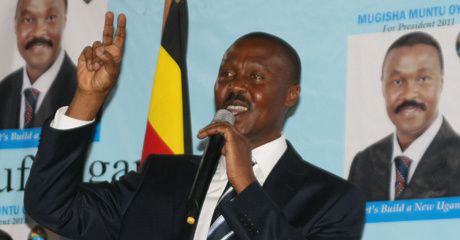 opposition party supporters to endorse him to take on President Museveni.
The former army commander said it would be easy for him to defeat the incumbent because he has increasingly become unpopular due to total by the NRM government to fight corruption, which, he said, has increased poverty in the country.
Tough-talking General
"Our economy has been growing but only benefiting a few while the majority of our people from Koboko to Busia, Moroto to Kisoro and Mukono to Gulu live in abject poverty," he said at the launch in Kampala yesterday.
He added: "What has stopped us from meeting these challenges is not the absence of sound policies but rather a failure of the regime under Yoweri Museveni as president."
Gen. Muntu, who fought in the Bush War that brought Mr Museveni to power in 1986, was army commander from 1990 to 1998. He remains the regime's longest serving army commander.
Gen. Muntu is running against Dr Kizza Besigye, the FDC party president.
He last year lost to Dr Besigye the battle to be party president at elections held at Namboole Stadium, Wakiso.
The FDC candidate will be elected in April.
Dr Besigye has lost in the previous two presidential elections to the incumbent, whose ruling NRM has already endorsed him as its flag bearer in the 2011 polls.
Gen. Muntu praised Dr Besigye's charisma in yesterday's speech, pointing out his resilience in fighting the "repressive" NRM government and his wise leadership and commitment to the opposition party.
He, however, pointed out it was time for the party to change leadership.
"He [Dr. Besigye] and his family have endured harassment and persecution. We applaud him and we shall forever remain indebted to him both as a party and the country," he said.
The mention of Dr Besigye attracted a standing ovation and some people started calling out the name of Musasizi Kifefe, the younger brother of the FDC president, who passed away in 2007, two years after he had been arrested and kept in jail on treason charges.
Friendly fire
The kind words about Dr Besigye will calm party supporters who had feared a heated contest.
The two candidates addressed a joint press conference on Monday, pledging a clean campaign.
Gen. Muntu reiterated yesterday that he was going to employ a new type of approach and that his candidature would reshape politics, campaigns, and when the FDC takes over the leadership of the country, he would reshape the way the government is run.
Gen. Muntu also accused President Museveni of relying on the country's previous leadership crisis to psychologically scare Ugandans who would wish to vote him out of power.
Manifesto details
His campaign promises to fight corruption, poverty, improve healthcare and use of public funds.
"No one else will cause the change we need and deserve. We have choices to make and we must choose to recover our country from the hands of the regime that has lost a sense of shame," he said.
The two FDC candidates kick off their campaigns this weekend, with Gen. Muntu headed to eastern Uganda in Mbale, while Dr Besigye will be in Bunyoro, starting with Hoima.
Partager cet article