Le sexe de Caster Semenya
'Hermaphrodite' Semenya? Proof of the pudding is in the eating, stupid!
I cannot believe the International Amateur Athletics Federation (IAAF) is still squandering millions of good money in an effort to determine the gender of the newest South African track sensation, Caster Semenya. The kid was born 18 years ago in the rural outback of the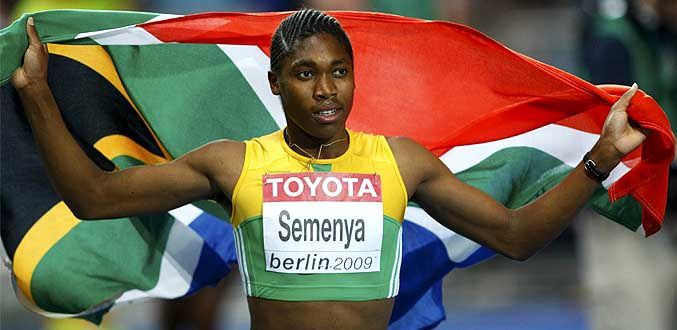 Limpopo Province, but she has a birth certificate spelling out her gender in no uncertain terms. She has attended school without her sex ever being called into question; above all her mother avers that Semenya has never been anything other than a girl.
Here is a little free education for the scientists of the IAAF. When a child is born to black African parents the first thing the midwife does, even before cutting the umbilical cord, is to part the new-comer's legs with a view to finding out whether it is a boy or a girl. There are cultural reasons for this which we cannot delve into in a piece of this length.
At the age of 18 the girl qualifies to undergo a voluntary and more lubricious test. Anybody with a lively little 'flash disk' will quickly establish whether she is a full-blooded female or "Brenda", the self- styled Ugandan 'hermaphrodite' who has (or claims to have) the astonishing facility to switch from DC (Direct Current) electric power to AC (Alternating Current). The proof of the pudding is in the eating!
It is not funny. Why did they subject Semenya to a battery of tests before she had even run her race? And having allegedly found her testosterone levels to be three times higher than those of a normal girl – whatever, 'normal' means – why did they leak the results of the so – called tests to the press?
I am not a qualified physician; and I do not know how to make this interjection. But you don't have to be a Nobel prize-winning urologist to know that testosterone levels will shoot up in any person who has had, is about to have sexual intercourse, or is in a state of great anticipation and excitement.
How do you expect a teenage girl to feel when she is on a world stage, lining up against some of the finest athletes in the world? Soon some mad scientist is going to publish a 1,000-page treatise, 'proving' that Usain Bolt of Jamaica has the genetic make-up of a cheetah as a result of one of his ancestors having mated voluntarily or been raped by a cheetah, the fastest animal on earth. How can a normal man have that size of balls, they wonder.
Remember the Berlin Olympics of 1936? Remember how the then Germany leader, Adolf Hitler, refused to shake hands with a black athlete on the presentation podium? All because the American athlete in question, the great Jesse Owens, in winning four gold medals, had made nonsense of the so-called Fuhrer's white supremacist doctrines which put the blond, blue-eyed superman at the apex of all humanity. Is the spectre of Adolf Hitler still with some people half a century after Nazism was routed from the face of the earth? It is, of course, a diabolic coincidence that the world athletics championships where Caster Semenya was handed the Jesse Owens treatment, took place in Berlin.
Why is it that some athletes smash record after record doing the pole-vault, amass more gold medals single- handed than a whole continent in the swimming pool, or turn the word's most gruelling bicycle race into a personal hobby, without anybody ever questioning their genetic make-up? But when it comes to a sports person from the so-called Third World, the test-tubes and beakers are quickly brought out.
French tennis star Amelie Mauresmo was derided by some of her competitors for being "a man", but I don't recall anybody lifting her skirt or putting a mirror between her legs to establish her gender.
In Africa we do not produce very many world-class athletes, especially in such nonsensical disciplines as Air Rifle shooting, Archery, and the like. But when we give the world such stars as Kipchoge Keino, John Akii-Bua, Morrocan Hussein El Guerrouj, Algerian Said Aouita, Ethiopians Kenenisa Bekele, Haile Gebresselassie and Ugandan John Ken Lukyamuzi, it is precisely because we feed them on biltong (dried meat) and millet, cous-cous and ugali, not hamburgers and omelettes. Caster Semenya Oyee!
Source: DailyMonitor

ejieta@yahoo.com
Partager cet article
Pour être informé des derniers articles, inscrivez vous :