Méthane du Kivu: attention danger
Kalongi, Western Province: Executives from American methane gas extraction firm ContourGlobal informed residents of villages near the spot of the exploitation that vigorous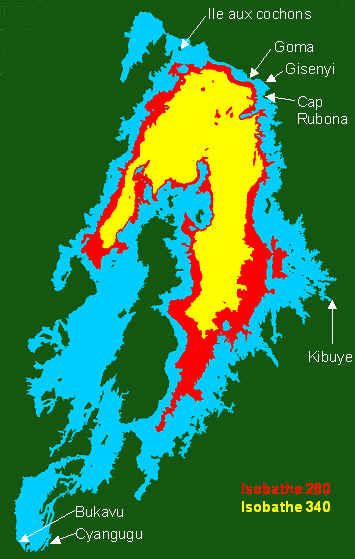 precautions are there to ensure lives are not at risk, RNA reports.
In two-day meetings with representatives of Bwishyura sector residents - which directly borders Lake Kivu, ContourGlobal presented plans indicating that hundreds of homes would be relocated from the area. The affected families will be compensated in addition to being moved to safe ground to give room to power stations and machinery, the plans show.

The American firm has a $325m agreement with government to produce some 25MW by October next year and another 75 MW in the following years. ContourGlobal will station its extraction platform and machinery in Bwishyura sector of Kalongi district.

State Minister for Environment, mines and water Mr. Vincent Karega also attended the sessions which come following revelations last month by Swiss scientists that exploitation of the gas was a disaster in making.

The extraction is likely to provoke the large quantities to carbondioxide under Lake Kivu suffocating millions of people around there, scientists said. However, ContourGlobal representative in Kigali and a senior government official told RNA there is no cause for alarm.

The dozens of village representatives were told that the extraction will use the most appropriate technologies which have very minimal risks. Sufficient precaution and safe-guards are in place to ensure imminent risks are averted, the residents were told.

According to government commissioned studies, the 50-year extraction and exploitation timeline actually reduces risk of carbondioxide reaction by more than 50%. Doing nothing at the moment with the methane gas, the studies say, instead makes such a disaster happen sooner.

What was notable from the two-day meeting which ended Wednesday evening, the residents also wondered how Rwanda would demarcate its side of the methane gas considering that the lake is shared with DR Congo. According to ContourGlobal experts and Minister Karega, Rwanda's project entails extracting just about 50% of the available quantities.

Rwanda and DRC are also working on a joint initiative which if finalized could put some 200 MW of electricity into the power grids of both countries, explained Karega.
Partager cet article